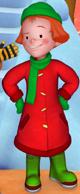 "Don't worry everyone I will protect you"
—BG
Gudule, the girl from the books that inspired Bravo Gudule, was renamed BG in the English adaptation, which was retitled Miss BG.
Big: that's exactly what this 8-year-old thinks she is! BG (sometimes stylized as Bg) is curious about everything around her and plunges head-on into adventures and escapades. She's a natural leader amongst her friends, even though she can be slightly bossy at times. She's also a bit of a tomboy, and loves to hang out with her best friends Gad and Alex in their super cool tree house.
She has a younger brother named George, they presumably share the same Dad and Mom.
Etymology
Edit
Facts:
Miss BG was titled "Bravo Gudule" in its original French incarnation of the TV series
This means BG's name is actually "Gudule".
Kind of like "Miss CL" could be a nickname for "Miss Congratulations Lisa".
Unsourced rumors:
her surname is "Baxter"
BG is short for Big Girl
BG is short for "Bella Garcia"
BG is short for "Bella Gloria"
Her mother is named Charlotte
Her father is named Jeffrey
TVO Kids description
Edit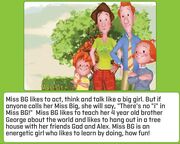 from http://www.tvokids.com/shows/missbg
Miss BG likes to act, think and talk like a big girl. But if anyone calls her Miss Big, she will say, "There's no "i" in Miss BG!" Miss BG likes to teach her 4 year old brother George about the world and likes to hang out in a tree house iwth her friends Gad and Alex. Miss BG is an energetic girl who likes to learn by dancing, how fun!