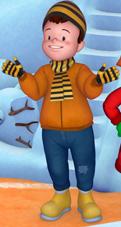 "Thanks. I just like to draw stuff."
—Billy
Paulo (English Billy voiced by Darcy Smith) is 10-years-old, he is the oldest in his and BG's class, and so he thinks the rest are all babies.
Billy is great at skating and he likes to show off his skills to BG and all her friends. He also has a crush on Brittany-Ann.
Ad blocker interference detected!
Wikia is a free-to-use site that makes money from advertising. We have a modified experience for viewers using ad blockers

Wikia is not accessible if you've made further modifications. Remove the custom ad blocker rule(s) and the page will load as expected.