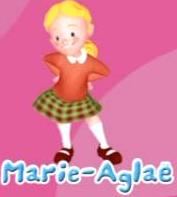 "She said girls."
—Brittany
Marie-Aglaé (in English renamed to Brittany Ann, space between name as per end credits showing she is voiced by Rebecca Brenner, a TVOkids.com summary also stylizes it Brittany-Ann) is a girl who lives next door to BG. Some may perceive her as a "spoiled rotten brat".
She is snobby to BG, but being nice to adults and other kids to impress them. Her best friends are Kayla and Billy, because they do what she wants/likes. Brittany Ann sometimes is nice to BG (Snow Day etc.).
Appearance
Edit
Brittany Ann has long, curly blond hair, that she wears in a down ponytail. She has light skin, and blue eyes.
Model pack
Edit
Ad blocker interference detected!
Wikia is a free-to-use site that makes money from advertising. We have a modified experience for viewers using ad blockers

Wikia is not accessible if you've made further modifications. Remove the custom ad blocker rule(s) and the page will load as expected.